Travel's theme for 2022? Go big!
On Thursday, March 17th we hosted our first webinar where we shared new features and trends for 2022. We were also joined by two GYG speakers (Konstantinos Papagiannopoulos and Chris Castle) who spoke about the Connectivity program and shared updates and trends.
Trends and insights:
The huge growth in bookings made since the beginning of the year in comparison with 3 previous years. No major effect of the war in bookings was found. Direct bookings show lower growth in comparison with GYG, Viator. Make sure that you have similar bookings conditions in all channels (i.e. cancellation policy). We expect last-minute bookings this year as well. Suggestions: Mobile-friendly website, last-minute availability, and low cut-off time.
New features:
Custom email
Listening to Travel Market's needs, we proudly launch the Custom Client e-mail feature which will automate the operational routine and accelerate the communication with end clients. Create customized e-mail templates and schedule their sending according to your preferences. All important information prior to starting time and after the completion of the experience is now delivered to clients' e-mail automatically.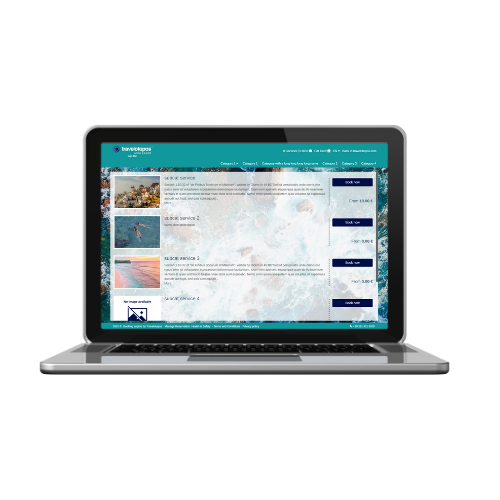 New Front end
Following the trends of the modern digital era, we are launching Travelotopos' new landing page for the ultimate client experience. The new-look provides a pleasant navigation environment, clear demonstration of supplier's services, and super client-friendly calendar view.
Key Elements
Add amazing background photos
Full Customization
Even higher Conversion
Clean & clear Calendar / time slots
Travelotopos Front End best practices:
Logo: The recommended size for the logo image is 220x54pixels and the background should be transparent
Background image: The recommended size for the background image is 1920x1080pixels. Travelotopos' support team can provide you with sample images in case your image bank doesn't meet the ideal dimensions.
Colors: Use your company's color scheme
Typefaces: Use simple fonts and make sure you use everywhere the same
Texts: Ensure the text is readable and consistent
Redirection vs Iframe: Why redirection is suggested.
SEO (search engine optimization) problems
Issues displaying to mobile devices
Security issues
No "Add to Package" options
No customization options

GYG – Trends about Greece
Visitor traffic has reached pro covid numbers.
They expect a very prosperous upcoming season.
How to improve Ranking

Pricing, Availability, Review quality (Work on these to improve conversion)
Commission, a great and "sexy" product (Work on these to improve performance)
GYG – Connectivity program:
Travelotopos is an "advanced partner" being in the top 12 out of 150 integrations. What does this mean:
The exceptionally low API error rate
Travelotopos implements all GYG supported API features
Travelotopos works closely on strategic initiatives
In case you did not attend, below you can find the URL for the video.
Let's build together the future of the Travel Industry   •   #WorkEasier with Travelotopos